Conference THEME
Identity and Diversity:
Citizenship, Vocation and the Common Good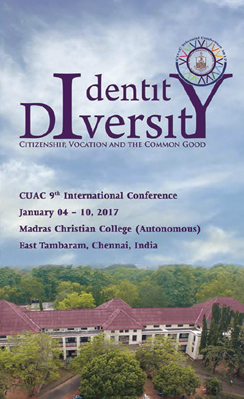 What matters, and what should matter, in the lives of the Colleges & Universities of the Anglican Communion? Today every CUAC institution finds itself set in the midst of a complex and competing set of voices. Religious pluralism and secular ideologies can threaten the meaning and relevance of our Christian identity. Claims for economic efficiency, recruitment of students in an increasingly            competitive market, and the need to prepare students for successful careers can endanger broader notions of 'education for life': a vision at once life-giving, life-serving and life-long.
Our 2017 Triennial Conference aims to tackle these challenges head-on. Site visits will help us make the most of our location in India, exploring engagement with poverty and religious diversity.  Our panel of Keynote speakers, including Prof Gavin D'Costa (UK), Prof Christel Devadawson (India), Fr. Monodeep Daniel (India), and Prof Martyn Percy (UK), will provide expert perspective and so help us to form our own ideas.
In this way we hope to be able to answer the question of who we are called to be as institutions of higher learning in the Anglican tradition: cultivating intelligent citizens, not merely consumers; helping students in discernment of vocation beyond mere economic gratification; and serving the common good beyond the private interest of the few.
Register Online HERE
Conference Location
Madras Christian College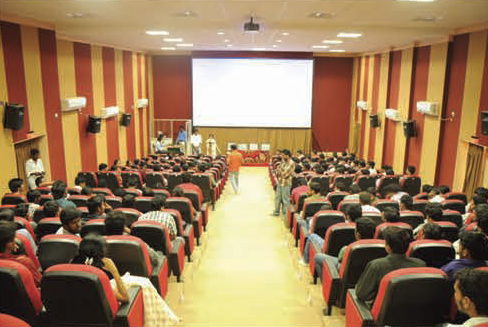 Madras Christian College (MCC) has been instrumental in shaping the minds of India's young people. Not many colleges in India can boast of a legacy of providing quality education to the masses for close to two centuries. MCC was founded in 1837 by the Revd John Anderson, a missionary from Scotland. The school was upgraded to a college in 1865 under the stewardship of Dr William Miller. The college stood as an institute of learning for a century in Georgetown before moving to its current location, spread over 365 acres in suburban Tambaram, in 1937. The college is surrounded by lush greenery and is cloaked in an air of tranquility. Dr Alexander Jesudasan, Principal of the college, proudly says, "MCC has been serving humanity through education since 1837. The college has always been at the forefront of providing scholarships to deserving students who are academically strong, but hail from economically weaker sections of society. Since 1937, MCC has voluntarily assumed the responsibility of adopting villages adjacent to the college premises and providing education, empowerment and social upliftment to the people living there."
The college has the distinction of being one of the first in the country to be granted autonomy in 1978. This has enabled it to introduce new courses, innovations in curriculum, and reforms in examination. In 2012, the college was re-accredited with a grade A by the National Assessment and Accreditation Council (NAAC). The University Grants Commission (UGC) has awarded the college Potential for Excellence (CPE) status for the period 2014 -2019.
Today the college has more than 7,000 students (both ladies and gentlemen, as they are traditionally called) and over 220 faculty members serving in 33 departments of both aided and self-financed streams. The college is known as much for its academic standing and leadership building as for social commitment. Besides, the unseen touch of the Almighty has always been felt and spoken of by generations of students and teachers.
Resource Persons

Gavin D'Costa is Professor of Catholic Theology at the University of Bristol (UK). He was born in Kenya, and his parents are from India. Dr Costa is author of seven books, most recently Vatican II: Catholic Doctrines on Jews and Muslims (OUP, 2014). His work on the importance of a Catholic University is Theology in the Public Square: Church, Academy and Nation (Blackwell, 2005). Gavin has also published a book of poetry. He is an advisor to the Vatican Pontifical Council for Interreligious Dialogue and the Roman Catholic Bishops in England and Wales on matters related to other religions. He is married to a Quaker prison chaplain, Beryl, and they have two children.

Martyn Percy is the Dean (or head) of Christ Church, Oxford, as well as of the Cathedral Church of the Diocese of Oxford. The Very Revd Dr Percy writes and teaches on modern ecclesiology. He serves as a member of the Faculty of Theology and Religion at the University of Oxford and is a Tutor for the Said Business School. He is also Professor of Theological Education at King's College, London. From 2004-14 he was Principal of Ripon College, Cuddesdon. His recent publications      include Shaping the Church: The Promise of Implicit Theology (2010); The Ecclesial Canopy: Faith, Hope, Charity (2011), and Anglicanism: Confidence, Commitment and Communion (2013).

Christel Devadawson is Professor and Head, Department of English, University of Delhi. Christel teaches contemporary South Asian life-writing and visual culture, and is preparing a manuscript on the visual politics of Lockwood Kipling. A Cambridge-Nehru Scholar, Christel curated "Legacies of laughter, legacies of loss: Pictorial satire in post-independent India" (Indian Literature Festival, 2015). Her books include Out of Line: Cartoons, Caricature and Contemporary India (2014) and Reading India, Writing England (2005). Her latest publication is Personal Convictions, Public Performance: Representing Anna Hazare (2015). She is a member of the editorial board of the CNI Review and a lay leader at Delhi's Cathedral Church of the Redemption. As Westcott Memorial Lecturer (2001), she spoke at Cambridge, Birmingham, Leicester and Warwick.

Jamie Coats serves as the Director, Friends of SSJE - Society of Saint John the Evangelist (www.ssje.org), an Anglican / Episcopal religious order based in Massachusetts, USA. Jamie oversees formation outreach and fundraising for the Brothers and is involved with a number of social media projects that help people to pray. Recent projects include helping launch the world's first crowd-sourced Advent Calendar, AdventWord.org, for the Anglican Communion and prayersofthepeople.org, teaching people to write prayers in the seven classic forms. In order to manage these social media projects on a global basis, Jamie worked with CUAC to have SSJE form a partnership with Lady Doak College, Madurai, Tamil Nadu, India.

Monodeep Daniel is a member and Head of the Brotherhood of the Ascended Christ, Delhi. Having served as a Pastor in various churches in Delhi over the past twenty-five years, the Revd Br Daniel is now the Dean of Residence at St. Stephen's College, Delhi University. Monodeep has engaged deeply with the question of identity and consciousness as both an Indian and a Christian. An encounter with Dr James Massey, then General Secretary of ISPCK, in 1991 led him to the emerging Dalit theology. Over the years he conducted many Bible studies for groups of young people helping them to re-read the Bible from a Dalit perspective. He has delivered lectures in the UK on Dalit theology and through engagement with the work of Prof Mary Grey has been prompted to give deeper attention to the issues of Dalit women, who are thrice oppressed. He holds a PhD from Vrije University Amsterdam for his work on the theory of religion and society, focusing on Dr B.R. Ambedkar, who wrote the Constitution of India.

Jeremy Law, following a curacy, undertook doctoral research at Oxford University examining the relationship between Christology and eschatology in the work of Jürgen Moltmann. In 1994 the Revd Dr Law became Lazenby Chaplain and Lecturer in Theology at Exeter University before becoming Dean of Chapel at Canterbury Christ Church in 2003. His research interests and recent publications have included work on the theology of human evolution, the ecological interpretation of theology, a theology of boundary that seeks to link together the being of God and the origin of life, and an essay on theological imagination. He has also written on the purpose of higher education and is the author of https://chaplaincyresource.canterbury.ac.uk/. He is the first recipient of CUAC's Distinguished Fellow Award.

Susannah Thorp is Chaplain to St John's College Durham (UK) and Priest-in-Charge of St Wilfrid's, Doxford, in Sunderland. The Revd Susannah Thorp holds an MA in Theology from Cambridge University and an MTh in Applied Theology from Oxford University. She was ordained in Durham in 2008 and served her title post in three vastly different parishes in Teeside. From there she spent two years as Interim Minister of Billingham, working alongside five parishes during a period of transition, before moving to her current post three years ago. As chaplain Susie ministers to undergraduates, post-graduates, staff, and those training for Ordained Ministry in Cranmer Hall, ably assisted by Millie, a retired greyhound.

Suka Joshua is Associate Professor of English and Chaplain at Lady Doak College, Madurai, India. The Revd Dr Joshua studied at American College at Madurai and Madras Christian College, earning her PhD from Madurai Kamaraj University. She recently received a MA in theology at Wesley Theological Seminary in Washington, D.C. As chaplain at Lady Doak, where twenty percent of the students are Christian, she supports students of all castes and religions with unbiased tolerance and inclusiveness. Her recent training at Wesley with Professor Sathianathan Clarke broadened her world view and enabled her to contribute better to her college and the church she co-pastors with her husband.

Alexander Jesudasan is the Principal and Secretary of Madras Christian College in Chennai and Director of CUAC's 2017 Triennial Conference. Dr. Jesudasan has been Principal since 2009 while continuing his scholarly interests in entomology (the study of insects), ecumenical relations, eco-theology, and interfaith dialogue. He is well recognized as a scientist and theologian in his own country and abroad. He is Board Secretary of CUAC and President of the All India Association for Christian Higher Education (AIACHE).




Robert Derrenbacker has served as the Chair of the CUAC Voting Trustees since 2014. The Revd Dr Derrenbacker has been President and Provost of Thorneloe University in Sudbury, Ontario, Canada, since 2009. Prior to joining Thorneloe, he was Associate Professor of New Testament at Regent College (Vancouver) and Associate Dean of Tyndale Seminary (Toronto). Ordained Priest in the Diocese of Toronto (Anglican Church of Canada), Dr Derrenbacker is currently the Honorary Associate at the Church of the Ascension in Sudbury in the Diocese of Algoma and sits on its Diocesan Executive Committee.
Conference Schedule
Wednesday, January 4, 2017
Delegates Arrival at Chennai International Airport (MAA)
Transport to Gateway Hotel and MCC International Conference Centre
Delegates make their own arrangements for dinner
Thursday, January 5 - Orientation and Launching
Inauguration of Conference
CUAC Welcome
Orientation to Triennial Theme
Orientation to Indian Culture and Context
Reflection Groups
Group Photo  (Academic Dress Optional)
Campus Tour
Dinner at MCC
Marketplace Displays Open
Friday, January 6 - Reading Our Context
Excursion to St. Thomas Mount
Chetpet Site Visit & Reflection Groups
Lunch at MCC School
Optional Visit: St. George's or Mylapore Hindu Temple
Free-time for Shopping
Visit to Women's Christian College
Opening Eucharist
Dinner at Women's Christian College
Saturday, January 7 - Identity and Cultural Diversity
Keynote: Gavin D'Costa on Identity & Diversity
Reflection Groups
Keynote: Monodeep Daniel on Citizenship
Lunch in Chapter Groups
Reflection Groups
Keynote: Jamie Coats on Social Media
Participant Presentations
       
Sunday, January 8 - Vocation
Eucharist in Bishop Heber Chapel
Keynote: Martyn Percy on Vocation
Reflection Groups
Lunch in Chapter Groups
Visit to Mamallapuram UNESCO World Heritage Site
Beachfront Reception & Dinner
Monday, January 9 - The Common Good
Keynote: Christel Devadawson on The Common Good
Reflection Groups
Keynoters' Panel Discussion
Presentation on Exchanges
Business Meeting
Closing Eucharist
Closing Dinner
Tuesday, January 10 - Delegates' Departure
Busses to Chennai International Airport (MAA)
Chaplains' Conference Day One
Wednesday, January 11
Chaplains' Conference Day Two
Thursday, January 12
Conference Details
Financial Information
The Conference Fee is US$950 (payable online at registration) by September 30th and $1,050 afterwards (and for the Indian chapter US$250and $350 respectively). For each delegate, this includes on-site meals, double accommodations, and transport to and from Chennai International Airport.  A limited number of single rooms are available on a first-come basis at an extra charge of $500. Registration is open to delegates from active member institutions whose dues have been paid.
Travel
(Travel expenses are not included in the Conference Fee.)
Delegates travel by air to Chennai International Airport (MAA). The delegates' Arrival Day is Wednesday, January 4th, 2017 and the Departure Day is Tuesday, January 10th, and for the Chaplains Conference, Thursday, January 12th.
A complimentary shuttle bus will transport delegates to the conference hotel, the Gateway Hotel- IT Expressway, Chennai, and for Indian delegates, the MCC International Conference Centre, making regular runs.  The same complimentary shuttle will carry departing delegates to Chennai International Airport on Tuesday, January 10th and Thursday, January 12th for chaplains. Please note: Travel other than for Conference events must be arranged by delegates at their own expense.
Accommodation
General accommodation is arranged at the Chennai Gateway Hotel – IT Expressway (a five-star hotel) and for the Indian Chapter at the International Conference Centre on the MCC campus. Rooms are double occupancy and at international standards. A limited number of rooms in the hotel are available for single occupancy for an additional fee of US$ 500 on a first-come, first served basis. All accommodations are non-smoking only. For questions regarding accessibility of hotel and conference facilities, please contact the CUAC office.
Visa Requirements
All foreign nationals entering India are required to possess a valid passport.
Once you have registered online and paid, you will receive via email a Visa Package with detailed instructions for applying for a Conference Visa,  including a "Letter of Invitation" from Madras Christian College and an approval letter from the Ministry of External Affairs (MEA), Government of
India, both of which are required as part of the application. Please apply well in advance to ensure processing and issuing of a Conference Visa before beginning your travel to India. Please do not request a Tourist Visa.
Insurance
Delegates are reminded that health care insurance should be procured to cover all travel abroad. Sponsors of international conferences, including CUAC, are not able to assume health care and emergency medical responsibility for their delegates. When booking your travel, please arrange for medical   insurance coverage. It can often be obtained through the credit card used to purchase airline tickets, and should cover both accident and illness abroad and, if possible, medical evacuation and body repatriation. Travel cancellation coverage is also advisable.
Online Registration
Registration for the Chennai Triennial will be conducted online here via an online registration form with payment via credit card or PayPal.
Exchanges Opportunities
Exchanges – of faculty, students, programs, and ideas – between and among its member institutions are the life and blood of the CUAC network. This Triennial will offer varied opportunities to foster        expanding the intra-CUAC Exchanges, beginning with a plenary workshop with actual videos and reports of existing collaborations, presented by four schools. Delegates will be invited to share their hopes for developing new exchanges building on a database of those already underway.
CHAPLAINS' POST-TRIENNIAL CONFERENCE
After the Triennial there will be a two-day Chaplains' Conference, which for Chaplains is included in their Conference Fee.
Chaplains as Meaning Makers
Co-convened by the Revd Dr Suka Joshua, Chaplain of Lady Doak College, Madurai, India and the Revd Susannah Thorp, Chaplain to St. John's College, Durham, UK
To be called to the work of a chaplain in one of our Anglican Colleges or Universities is to be afforded a rare opportunity to live out one's vocation in a dynamic and vibrant environment.
We stand at the front line between the promises of the Gospel of Christ and the reality of everyday living.  But the role of chaplain can also be a lonely one in which one's work and identity can be challenged from a variety of directions.
In recognition of the vital contribution chaplains make to the life and Anglican identity of CUAC institutions, chaplains are warmly invited to stay for two additional days at no additional cost (January 10-12) for a special Chaplains' Conference. Building on the Chaplains' Conference in Seoul in 2014, we shall come together to engage topics that are pertinent for our distinctive ministry in a 21st century academic environment. We will explore further the rich religious diversity in Tamil Nadu, and time will also be given for worship, small group projects, and prayer, as well to socialize and deepen          relationships.
Past triennials have led to lasting partnerships of support and encouragement between chaplains in different parts of the world.  We hope the 2017 Triennial, especially, will be no different.
Colleges & Universities of the Anglican Communion (CUAC)
CUAC is a world-wide network of Anglican colleges and   universities which exists for the mutual flourishing of its members through engaging with each other, their society, and their churches, as they seek to enable their students and faculties to become active and responsive citizens in God's world. 
CUAC connects over 140 institutions of higher education that were founded by and retain ties to the churches of the Anglican Communion. With institutions on five continents, CUAC exists for the exchange of ideas and the development of programs among member institutions.
CUAC is a network of the Anglican Communion organized in chapters by region for mutual support and periodic meetings. Membership assumes payment of an annual subscription based on the size of the institution or individual membership. Each institution has a vote at the Triennial meetings of the   association. Membership information can be found at the web site www.cuac.org or by contacting office@cuac.org. 
The Reverend Canon James G. Callaway, D.D.
GENERAL SECRETARY